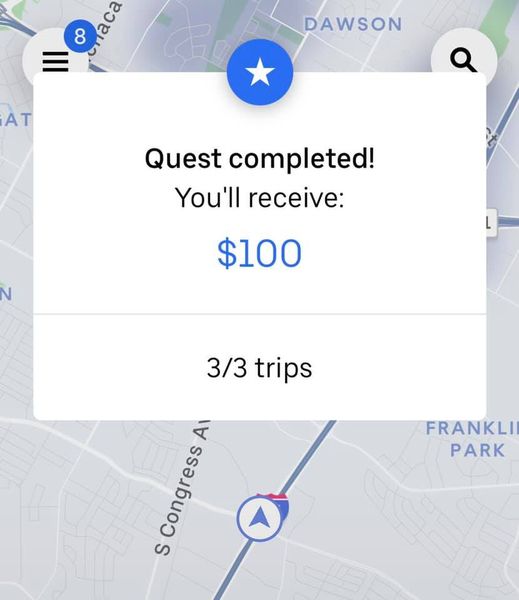 Posted by ballerat
|
Deals
Those looking for extra summer money, I did only 3 trips today on Uber as a driver in 30 mins and made $100 extra. They are in need of drivers in Austin! Other have told me once they are signed up using links below they are seeing the $100 promo as well!

From (cut/paste) Uber promos (new drivers promo first, then below that one existing drivers who haven't taken a trip since March 20, 2021

New drivers: I just invited you to drive with Uber. Sign up and earn $1,180, guaranteed, after completing your first 100 trips. See how. https://partners.uber.com/i/u5q5msa2j

Existing drivers link who havnt taken a trip since 3/20/21: Hi, I've been driving and earnings on Uber are high! Median earnings in Austin are $33/hour*.
Make at least $1,575 guaranteed by taking 115 trips with my referral link**. Go to http://hero.uber.com/2ft?p=769zq to accept my invite.
And in case you didn't know – Uber has introduced new policies and features to help keep everyone safe, including a mandatory mask policy and free disinfectant supplies for drivers.
*Stated trip earnings of $33/hour are based on median earnings of drivers in Austin from 3/29/2021 to 4/12/2021 date who drove approximately 20 hours per week. Actual earnings vary, depending on factors like number of trips provided, time of day, and location. Earnings include trip fares, some promotional offers (including Quest and Consecutive Trips), and tips, which are provided at the discretion of the rider. Median earnings in your specific location may be lower than the city figure. Since median is the middle, you may make more or less than the median amount.
**Your guaranteed amount and requirements may vary if you are signed up as a delivery person or driver, and if you drive in a different city from your referrer. See the referral link for offer details.