free stuff if you early vote in Austin:

Independence Brewing Co. – It's officially EARLY VOTING TIME in Texas! Come to the brewery during our weekend taproom hours, show us your voting sticker and get a Freak Power on us! Power to the freaks, y'all — Now get out there and vote already! #vote #earlyvoting #freakpower

St Elmo Brewing Company – Hey there, early voters! Swing by the brewery today and get yourself a FREE half-pint of beer! Just flash us your "I Voted" sticker and the beer is all yours! 🙌🏼🇺🇸🍻 #election2020
Still Austin Whiskey Co. – Free draft cocktail w/ "I Voted" Sticker!

Austin Eastciders Barton Springs – Through October 13-16 wear your "I Voted" sticker at the Barton Springs Location to receive a free pint free pint of cider. There is a limit to one pint per guest.

4th Tap Brewing Co-op – is giving people with a sticker a free 10 oz pour through Friday, October 16th.
Texas Saké Co – Bring in your "I Voted" sticker and receive a 1.5oz shot with any purchase between October 15th – 18th! Let's Go Texas #vote2020#txsakeco
Easy Tiger – Swing by any Easy Tiger location for a free cookie when you present your 'I Voted!' sticker! Must be present to redeem offer, does not apply to Curbside or Delivery. Valid until Tuesday, November 3

Galaxy Cafe – Bring in your "I Voted sticker to any of the three locations of Galaxy Cafe (Central, Northwest, or South) anytime during early voting and they'll give you a free small chips and queso (dine-in only).

Seoulju Korean Kitchen & Bar – The Korean spot Seoulju is giving away five free dumplings when you show them your "I Voted" sticker at their North Lamar location this week, from October 15th-18th.

Marcelino's – Bring your "I Voted" sticker to the East Austin taqueria Marcelino's, and they'll give you a free breakfast taco.

El Mesón – From Oct. 13 to 15, stop by the Mexican restaurant between 4 and 8 p.m. for a free marg. (Just make sure to be wearing your "I Voted" sticker.)

Paprika ATX – Cast your ballot then get a free carnitas taco. Sounds like a win win to us.

El Chilito – Between October 13-30, show your "I Voted" sticker to receive a free regular-sized queso. If you vote by mail, you can use the promo code Queso2020 to receive your free queso on an online order.

Home Slice Pizza – From October 13 – November 3. both Home Slice Pizza locations will offer a free slice of pizza to any guest who shows up to its slice windows wearing an "I Voted" sticker.

The Soup Peddler – Show your "I Voted" sticker to receive a free 8 oz. soup. Valid at all locations.

Launderette Austin will give guests with an "I Voted" sticker a free draft beer during lunch on the next three Fridays (the 16th, 23rd, and 30th).

And lastly and bestly, from Jackie Venson:
"It's early voting time! If you're waiting in line to #vote in Texas, DM this (her fb not ours) page and I'll send you my new, unreleased record, Vintage Machine, to listen to while you wait FOR FREE. I am the record label, I can do these things lol."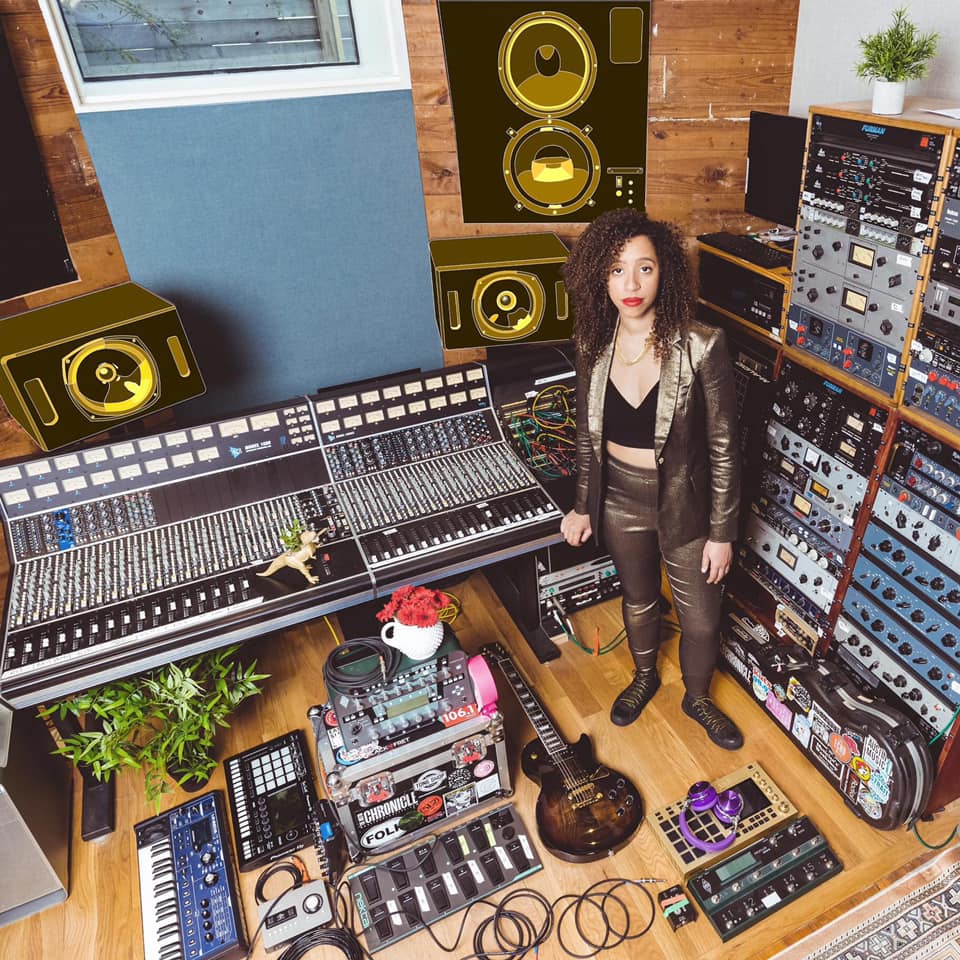 Photo of Jackie by: Ismael Quintanilla III Photography