I'm all about enjoying this beautiful Austin weather by patio hopping around town from Moontower Saloon to Bangers or anywhere with a solid mimosa deal. However, if you're looking to get in touch with your outdoorsy side and save some cash, the Colorado River is just a short drive away. In my opinion, not much beats kayaking/canoeing the river and camping on island sand bars.
Step 1) Recruit as many of your friends (and furry friends!) as possible
Step 2) Head about 30 minutes East to Webberville 
Step 3) Board your water vessel of choice
Step 4) Start paddling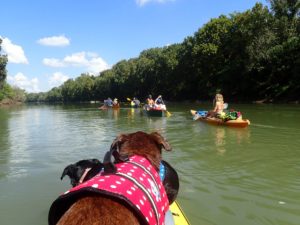 If you already happen to own a canoe or kayak then your only investment for the weekend will be a cooler full of beer and some food to soak it all up (if you're like some of my friends that means a case of Lone Star each and three 18 packs of Smucker's Uncrustables). No worries if you don't, there are a few different outfitters that you can rent one from for pretty cheap. We went with Cook's Canoes (http://www.cookscanoes.com/index.html) and it was $50 per night for a canoe and $35 per night for a kayak. Technically though, if you choose to canoe with a friend you get to split that cost plus the paddling efforts. A win-win! One last perk of going through the outfitter is that it includes a shuttle from the end point of your trip back to your cars at the beginning. So for those of you who do the trip with your own gear; do not, I repeat DO NOT, forget to leave at least one car where you plan to exit the river so you can get back to the other cars. Unless you're down for a longggggg walk back.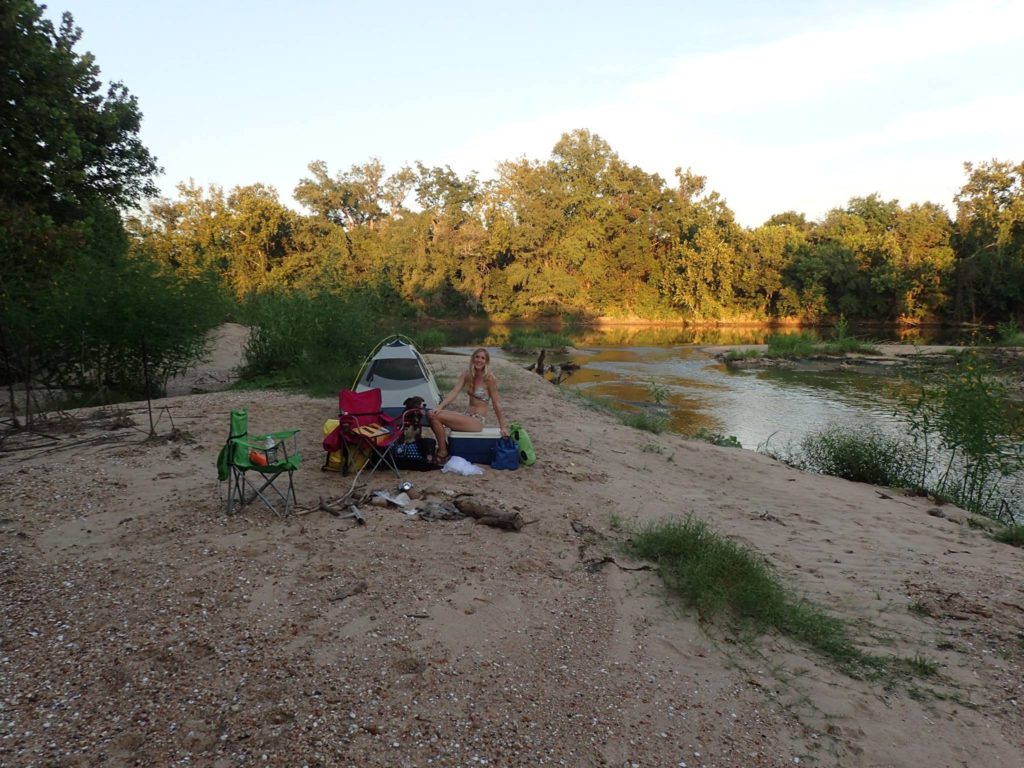 For our last river trip my husband and I decided to head out right after work so that we could get paddling and have camp set up by sun down. Did I mention that camping on these sand bars is also free?! We chose to start at Little Webberville Park since it was only about an hour paddle to the first potential sand bar. This one is pretty small but perfect for a small group like the two of us and our dogs. If that's not quite what you're looking for, you can keep going down the river and choose from a number of other first come first serve islands. We set up camp, gathered some wood for the fire, and cracked a few cold beers. Not necessarily in that order… While we were taking care of all of the manual labor like the responsible adults that we are, our two dogs were off exploring the island doing "dog stuff". Between that and repeatedly jumping off of our kayaks to swim during the day it made for some happy, and exhausted, pups.
Saturday morning we packed everything up and moved our lawn chairs into the water while we waited for all of our friends to come down stream. From there we made our way slowly but surely with only a few tipping casualties stemming from a rowdy game of bumper tag. As peaceful and beautiful as the Colorado River is, what is a river trip without some shenanigans? Here are a few other examples to keep your float interesting: Most Absurd Hat Competition, bb gun target practice, pick-up game of whiffle ball with locals on shore, or some casual fishing. I think you get the idea.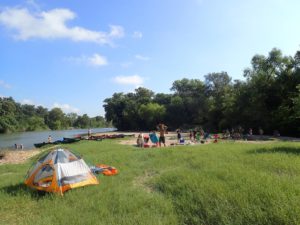 A few more hours and a box of wine later we came across a very large island that was more than big enough for a group of any size. Both of the islands that we camped on had plenty of wood to collect for a fire but it never hurts to bring some extra if you have the space. Once the fire was roaring we cooked up all of our food only to have it left out and eaten by some animals overnight- also known as my dogs. In typical camping spirit our night was full of s'more roasting and various drinking games around the fire. In typical "I've been drinking copious amounts of alcohol for 15 hour" spirit our night ended with howling at the moon and a little bit of skinny dipping. Or so I've been told since day drinking got the best of me before any of that debauchery began.
Next thing I knew the sun was coming up and Sunday had arrived to be the buzzkill that it always is. I'm sure you get the drill but we slapped the bag a little bit to polish off the wine, packed our kayaks, and started on our way. There were only a few hours left to go between our campsite and the final dock and it was one of the most gorgeous parts of the river we had travelled down. When we got to the dock our shuttle was there waiting and we made our way back to reality.
Moral of the story, if you have a free weekend and you enjoy being one with nature you should get your @$$ out to the beautiful Colorado River.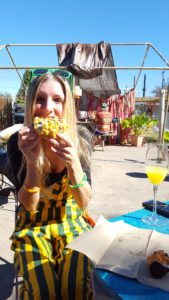 Melissa is a staff writer for balleratx.com