A Spoiler-Free Review of Stranger Things
by Traci Mondragon
From the synth beats that made my heart burst, to the superb acting by a group of very talented children… Stranger Things is everything I never knew I needed in a Netflix series.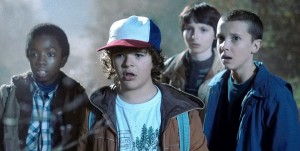 Set in 1980's small town Indiana, this eerie tale of missing children and monsters takes its viewers on a roller coaster ride of nostalgia and fright. I loved every second of this show and cried as I watched the finale. As a child of the 80's, I, like so many others, fully embraced the awesome clothes, and am SALIVATING over the announcement of the release of a soundtrack. Which, by the way, was composed by Austin's own S U R V I V E. But beyond all the feels we got from the incredibly detailed 80's vibe of Stranger Things, this show was about monsters. Those we fight against for freedom, those we fight in the Upside Down, and those we fight within ourselves.
It all begins with the disappearance of Will Byers (Noah Schnapp). His mother, Joyce (Winona Ryder), will stop at nothing to save him, because although most of the town believes he's dead, she knows in her heart (and with the help of some strategically placed Christmas lights) that he's very much alive. Raise your hand if you had flashbacks to "summoning spirits" with the Ouija Board in your older cousin's living room when your parents were out for the night! I know I did. Joyce teams up with Sherriff Hopper, a man fighting his own inner demons, and his investigative prowess leads to many discoveries.
Will's friends Mike (Finn Wolfhard), Dustin (Gaten Matarazzo), and Lucas (Caleb McLaughlin) know he's alive too, and they devise a plan of their own to rescue him. It is on their first late-night mission that they discover a young girl named Eleven, played by the outstanding Millie Bobby Brown, who ends up being the key to the mystery in so many ways. And completely steals my heart.
When another local kid goes missing (the ever-stylish Barb, played by Shannon Purser), her best friend Nancy (Mia Sara look-alike Natalia Dyer) teams up with local loner and brother of the missing Will, Jonathan Byers (Charlie Heaton) to find out the truth. As they uncover pieces of the puzzle themselves, this dynamic duo decides to wage an all-out war against the monster.
The audience nervously watches as these three dream teams, each in its own way, discovers more and more about the place where Will and Barb are taken, and how to get them back. We anxiously wait for them all to figure out that the others are also searching for the same things, and you long for them to join forces to defeat the monster, the evil Dr. Brenner (Matthew Modine), and their own insecurities. Each of these characters, in one way or another, feel like outsiders in their small-town world. But they all turn into heroes as we see the plot unfold and reach its climax.
From the first frame, we are sucked into this strange world, and we can't help but see every single Stephen King, Steven Spielberg, and Wes Craven reference thrown in to bring to light one of THE most entertaining series of the decade. The crazy talented and imaginative Duffer Brothers have taken us all on an incredibly chilling journey. And I can't wait to be sucked in again and again.