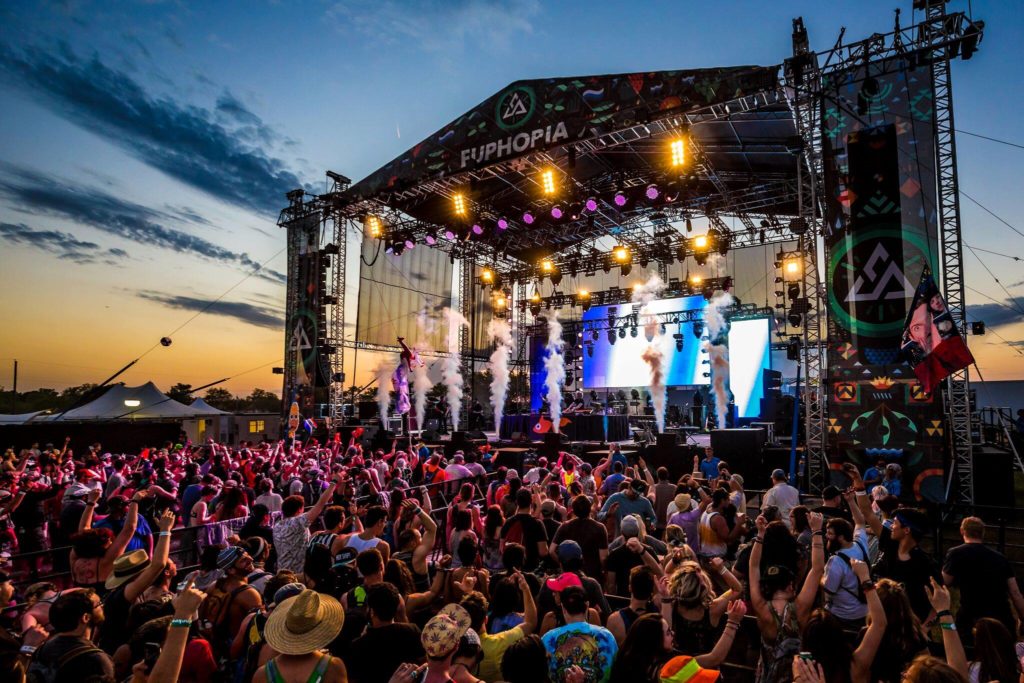 eu·pho·ri·a
noun
a feeling or state of intense excitement and happiness. "the euphoria of success will fuel your desire to continue training"
synonyms
: elation, happiness, joy, delight, glee
I'm sure there are countless things that come to mind when reading the definition above; playing with puppies, devouring an entire bowl of Funfetti cake batter, and the first sip of that free margarita to name a few. For over 50,000 music lovers it means Euphoria Music Festival.
Euphoria is a four day camping music festival taking place April 6th-9th on the beautiful 55 acre grounds of Carson Creek Ranch in Austin.  While the primary genre is electronic music this festival offers a little something for everyone by bringing in hip hop, indie, and jam band artists for your listening pleasure. The 2017 lineup is stacked as always and includes Alesso, Chromeo, Pretty Lights Live, Wiz Khalifa, Young Thug, Zeds Dead, The Disco Biscuits, The Floozies, Knife Party, and many many more.
If you aren't sold on the music alone, Euphoria is really focusing on enhancing the all-around experience for its attendees this year. They will be partnering with Art Outside to introduce the Art Outside Village which will organize various activities such as art installations, unique workshops, and yoga. What makes these additions even more awesome is that they are opening them up to anyone who has something nifty to contribute. If you have an artistic contribution that you would like to share with your fellow festival-goers you can apply here. Life tip- don't hesitate, just DO IT!
For those of you that lack in the creative department but want to get involved don't fret! The Fest is bringing back its work exchange volunteer program and is currently looking for passionate folks just like you. In exchange for only 15 hours of your time (broken up into three five-hour shifts) you will receive a GA 3-day pass and a camping pass. That is of course in addition to meeting wonderful people and creating memories that will last a lifetime. Talk about ballin' on a budget! If this sounds right up your alley you can head to this link to get your app in.
If you are sold on the festival but aren't too keen on fully immersing yourself in the camping lifestyle, I suggest that you strongly reconsider. To each their own but in my festival experience there is nothing like waking up on the festival grounds with your adopted community and embracing that "this is life now" mentality. Euphoria offers numerous camping options so you are sure to find the perfect fit. There have also been some serious improvements made this year based on feedback from past campers. For example; additional space per campsite, option for early check-in on Wednesday, and a shuttle service to get your gear to your site. That last one is a game changer people. If you haven't attended in the past, let's just say it took impeccable stacking skills and balance to cart all of your shi*t up and down hills before you finally reached the camp grounds. The people struggled- Euphoria listened.
Now that was a lot to take in but I hope that it got you as excited as I am for the sixth annual Euphoria Festival! Tickets are still on sale so I suggest you rally some troops, create some bitchin play lists to get pumped up, and get ready to get down and dirty on the banks of the Colorado River.
Full line-up Here
Tickets available Here