by Traci Mondragon, photos by Dominic Mondragon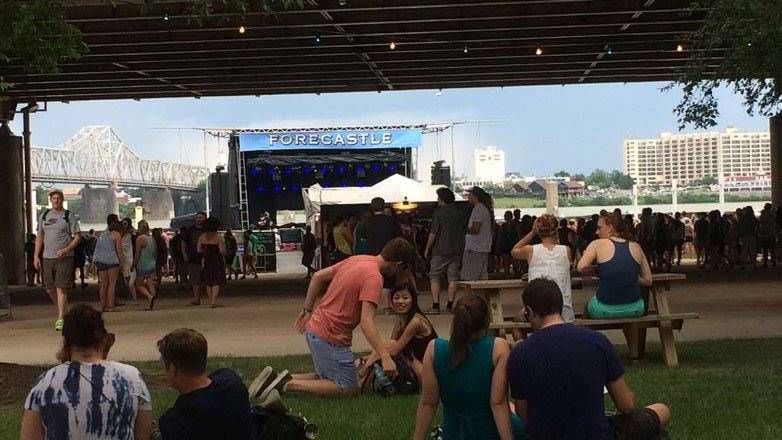 This Texas gal has never been to Kentucky, the land of chicken and horses, but I'll definitely be back if it means attending the chill, artsy, fast-growing music festival known as Forecastle. Baller ATX headed to Louisville, KY last weekend to see what this fest has to offer, and how it compares to all that we know and love about festivals in Austin, TX.
We arrived Friday, and were instantly surprised by the ample street parking very near the festival grounds – the sprawling and beautiful Waterfront Park – as well as the practically non-existent lines at the entrance. Despite the quick entry process, the festival was filled with attendees. Whether up front and center for a great band, laying on a blanket in the lush grass, or sitting in one of the many shady spots across the park, festival-goers were plenty. This is one of the most well attended festivals I've been to, yet there was ample space to get to and from all the stages, and short lines to grab a bite or a beer.
Speaking of food and drinks… there were many local eateries with booths at Forecastle, and we attempted to sample as much as we could! From the spicy (affordable!) creole mac and cheese at the Roti Rolls truck, to the burger and fries from the cool dudes Black Rock Grill… we felt the love in everything we tried. Drinks were, as you might guess, festival-priced, but when we made the trek over to Kentucky Landing, the local shop, restaurant, and beer area… we found several delicious brews from local breweries – and at just $2 for a 4 oz. sample! The West Sixth IPA from West Sixth Brewing and the Crank Shaft IPA from Braxton Brewing were among my favorites.
Now on to the music…the reason we were there at all!
Forecastle opens later on Friday, so we got there around 4pm, just in time to catch a taste of the sweet vocal sounds of Liz Vice…
…but that's when the storm came. Literally.
The festival was quickly and briefly evacuated due to lightning in the area. Big thanks to all the volunteers, staff, and security who smoothly got everyone to safety while we waited for the storm to pass. Around 6:45pm, everyone was allowed back into the park, and all scheduled bands were pushed back so that no one missed seeing and hearing their favorites!
So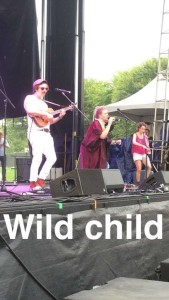 , we resumed our music watching experience with the vibrant, energetic Grouplove, who really put on an amazing show. We then walked over to the other side of the park to catch the second half of Austin's own Wild Child. They never disappoint, and drew quite a large Kentucky crowd! After catching a little of Baauer, Moon Taxi, and Bully… we made it over to see another Austin original (and favorite) Ghostland Observatory. Thomas and Aaron did what they do best and created the incredible, heart-pumping stage, light, and musical experience we all know. On our way to the festival's main stage, we caught a glimpse and sound of Glass Animals, and ended the night with the headliner… The Avett Brothers. Alternating between low-tempo songs of love and loss and upbeat, uplifting tunes, The Avett Brothers played to the huge crowd, and made us all remember why we love music festivals. The harmony they inspire and the spirit of togetherness they foster.
Saturday, we began with some rockin' tunes by Future Thieves at the WFPK Port Stage, which is where we tried some of that great mac and cheese from the Roti Rolls truck! Then, we got to see one of my personal highlights of the fest – BANNERS… that Brit has an incredible voice, and his catchy, anthemic pop-rock is so infectious. Luckily they were playing the Ocean Stage, which is literally under the freeway that runs over the middle of the park. Plenty of shade. Then we moseyed over to hear the soft, beautiful sounds of Sarah Jarosz, listening under the trees at the Boom Stage, and continued our laid-back afternoon with Andrew McMahon in the Wilderness. We took a little respite there for a while (it may have not been 100 degrees like in Austin, but it was HOT, y'all), then continued our evening with Local Native and a bit of Sylvan Esso. We shook it to Alabama Shakes before calling it an early night.
We definitely had a bit of a lazy Sunday, so we didn't get to the fest until about 3:00, but that was just in time to rock out to Heartless Bastards! We grabbed a spot under those trees from Saturday, and caught Austin's own White Denim, who had a great crowd for a sunny, sweltering afternoon time slot. Then, it was time for probably our most anticipated band of the fest… Death Cab!!! The crowd was excellent; the temperature had finally gone down a bit by their 7:00 start time; they sounded amazing. They played the hits, they played a few new tunes, and they stole my heart…as always. I'm pretty sure I cried a little during "I'll Follow You Into the Dark" because I'm a big cry baby.
We had a 7:40am flight from the Cincinnati airport (1.5 hours from Louisville) the next morning, so we let our Forecastle experience end on a high note with Death Cab…and called it quits before 9pm. Hey, we're in our mid-thirties. We need sleep… and apparently, we DO stop sometimes…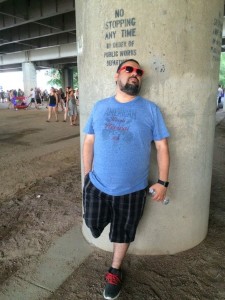 All in all, Forecastle and Louisville were incredibly hospitable, fun, and definitely worth the trek from Austin. So next time you're looking outside to venture outside of your ATX bubble for a chill music fest, strongly consider Forecastle. You won't be sorry.
Cheers!