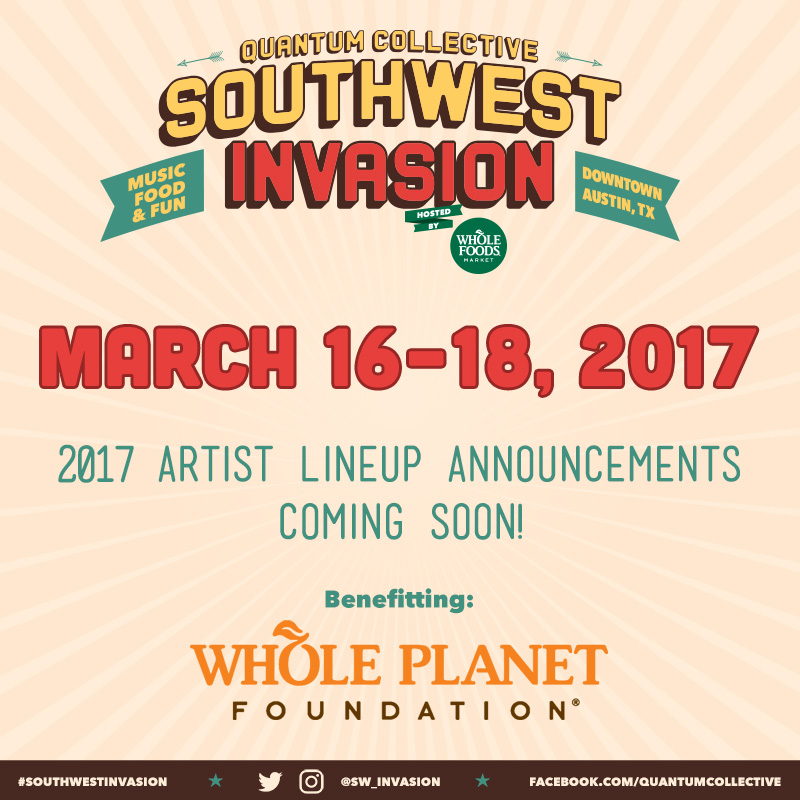 The Quantum Collective Southwest Invasion will touch down in Austin, TX from March 16-18 for its 6th annual concert series and lifestyle village hosted by Whole Foods Market, benefiting Whole Planet Foundation. The free, all ages event draws a huge crowd to the Whole Foods Market flagship store's rooftop venue on North Lamar Boulevard every year for live performances by emerging and legacy bands. This year's three-day event will feature over 40 artists on two stages. RSVP OPEN HERE
Supporting the Southwest Invasion for a second year in a row, CLIF Bar returns to the Whole Foods rooftop to supply guests with their new CLIF® Nut Butter Filled Bars. Additionally, they'll be bringing their Record Lab where fans can get free 7" singles made from plastic plates. Audio Engineers from Mobile Vinyl Recorders will cut records in real time for a one of a kind keepsake.
ZICO returns to the event as well, hosting a free yoga session on the rooftop the morning of Friday, March 17. An instructor from Black Swan Yoga will teach the class, which is open to 40 people. Registration begins at 8:30am and the session will run from 9:00 – 10:00. Additionally, ZICO will be handing out their USDA-certified Organic, Fair Trade Certified™ Coconut Water. With every ZICO Organic you're helping build a better tomorrow for local Philippine farming communities by supporting organic farming, investment in farm productivity, community development projects, and farmer empowerment.
New to the Quantum Collective Southwest Invasion family in 2017 is Schwinn. Founded in 1895, Schwinn is an American icon, building some of the best-known and best-loved bicycles of all time. In addition to offering slushies and puppies on the rooftop, they'll have some of latest and greatest bikes for fans to see, get on, and even ride, including their brand new line of easy-riding Sivicas.