I have a Badge…so now what?
by Traci Marie Mondragon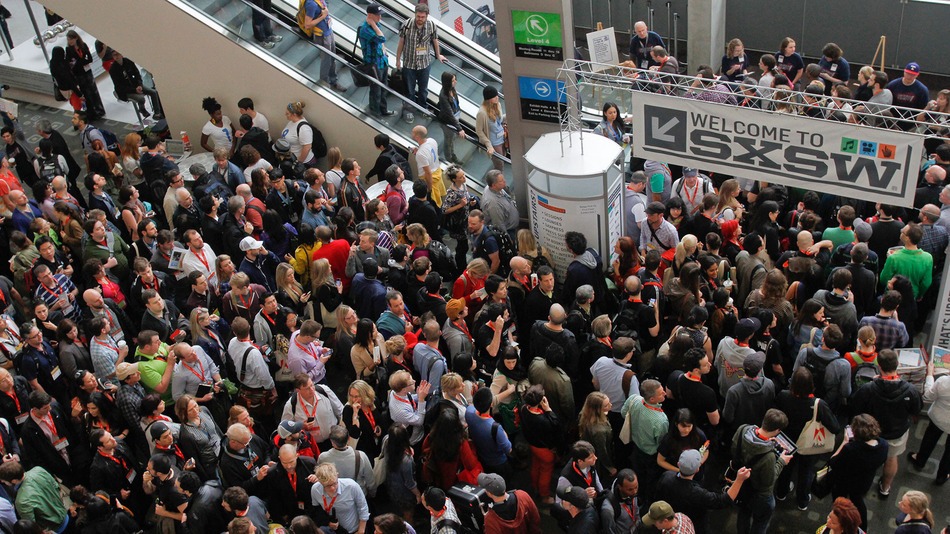 I'd like to thank everyone who read Vol 1 of my SXSW 2017 Advice Column. So, if you took my advice and signed up to volunteer, then you are going to earn a badge! Or maybe you're just made of money and you purchased a badge. Either way… if this is your first time with that coveted plastic-encased-paper-holy-grail-on-a-lanyard, or you just need some helpful info on how to ROCK that badge, then this column is for you.
Keep in mind, I have been attending SXSW for over ten years, so I speak from experience. Also keep in mind that I've only ever attended because I've volunteered for that long as well…so I may not cover everything a paid registrant would know about. But I'll do my best!
Badge Types/Admittance
There are BIG changes to the SXSW badge structure in 2017. Most notably, ANY badge type can get you into ANY part of the conference or festival. Here's what I mean…
Your admittance priority into events is dependent on what type of badge you will have. Most venues will have two lines: one for Priority Access and one for Secondary Access.
Interactive = Priority admittance to Interactive panels/sessions/workshops and events (Secondary access to Film and Music events)
Film = Priority admittance to Film screenings, panels/sessions/workshops, and events (Secondary access to Interactive and Music events)
Music = Priority admittance to Music showcases, panels/sessions/workshops, and events (Secondary access to Interactive and Film events)
Platinum = Priority admittance into Interactive, Film, AND Music events!
All official events will have capacity limits of course, so your badge will not get you into events that are at capacity, and there are a few, rare private or ticketed events that even your badge alone is not enough to get you into.
Create a Schedule with a Plan A, B, C, and D.
SXSW has SO much to offer, and it can definitely be overwhelming. There are several different types of events, from morning till the wee hours of the night! But planning is key. And backup planning is crucial.
If you haven't already, create an account at schedule.sxsw.com. There, you can search events you're interested in, and add events to your custom schedule. There's also an app!
Use the day/type filters to search only the types of events you want, or by conference type.. Play with the filters, or use the search field at the top right to search for specific bands, films, or speakers you're interested in.
Best Kept Secrets
There are a few insider tricks I've learned over many years of SXSW'ing, through trial and error, and some by pure happy accident!
Interactive
Interactive parties tend to be overlooked by those who still think SXSW is just all about music. Often, these are great networking events with loads of free booze and food. Some of the best parties I've been to are Interactive parties. Those tech people know how to go hard! The Interactive closing party is always at Stubb's, and has always featured some HUGE acts (Ludacris, Deadmau5), not to mention an open bar. At Stubb's! Those drinks are usually like $7 or more a pop! There are SO many day and night parties during Interactive. So take advantage of this!
Film
Film panels often highlight specific films, and will feature the filmmakers and entire casts. These are often intimate settings with Q&A portions, so you can get up close to pick the brains of your favorite filmmakers or TV stars.
Music
ACC Day Stages. Inside the Austin Convention Center, in the 4th Floor ballrooms, are the music day stages. Super intimate settings feature artists both well-known and up-and-coming. These shows are a great way to see that band you love, but maybe conflicts with another band you love later in the week! The shows are never full, and you can always get a great spot up front, out of the elements, and the sound is always fantastic.
Some day parties and events offer priority entrance to badgeholders, over non-badgeholders who have just RSVP'd, so always go up and ask at the door if you see a HUGE line. It might be worth asking! The worst they can do is send you to the back of the line.
All-Conference
Not specific to badge type…the Registrant's Lounge is open all week, and is a chill place to get a free drink, mingle, and get ready for all those evening parties, films, and showcases! Note: Volunteers are NOT allowed into the Registrant's Lounge. Sorry, guys. We can't get ALL the perks. The Registrant's Lounge is located in Brush Square Park, just across 4th street from the Convention Center. Speaking of Brush Square, there are parties going on at both the East side tent and West side tent ALL week! These usually feature free drinks, snacks/food, and bands.
Convergence
In the past few years, SXSW has introduced new concepts to compliment the big three conference areas. These include SXSW Gaming, SXSW Sports, and SXSW Comedy. Many of these Convergence events are open to all Registrants, no matter your type of badge.
Finally…
Always remember to have several back-up plans. Even with that badge, there may still be long lines, or they might run out of food or drinks, or the band you thought was playing that party may have cancelled. Always have a backup plan.
Enjoy that badge! You've earned (or paid for) it!