Senator Kaine brings his vision for America, his stories of the women who have inspired him, and his praise for campaign volunteers to Austin, TX
 by Traci Mondragon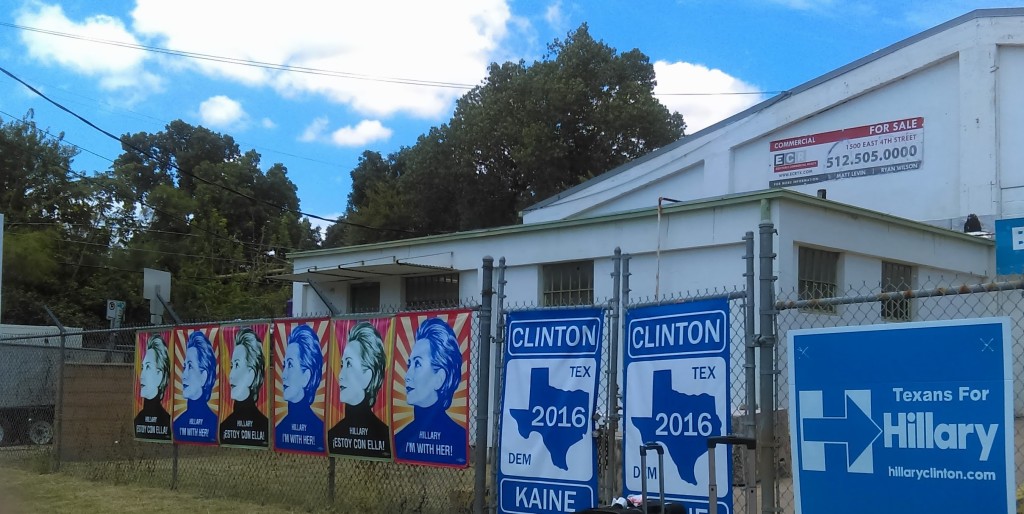 First…I apologize for the photo quality. This was a last minute assignment and my cell phone camera is blurry at best.
It's excellent to have friends in high places. That's what being a Baller on a Budget is all about, right?! Well, I'm honored to have known and been BFF's with the new Texas State Director for Hillary for America, Ms. Jaclyn Uresti, and yesterday, she invited me to be a part of a very special, intimate gathering of Travis County Democratic Party volunteers and our very own Vice Presidential Candidate, Sen. Tim Kaine of Virginia.
Waiting in line, outside, in 100 degree Texas heat, to get inside a non-air conditioned warehouse… that's dedication. The line moved slowly as everyone was subjected to a mag detector and airport security-like measures. All I could think of was how bad I felt for all the Secret Service guys in their suits standing out there. Brutal.
But eventually, we all got inside. The room was bustling with volunteers making calls to Travis County voters, press trying to set up for the perfect view, and a few others just trying to stay relatively cool near the several fans set up throughout the room. Even Senator Kirk Watson (who spoke before Kaine) mentioned that, as Democrats, we don't waste campaign money on luxury items like air conditioning! As I sat among my fellow Clinton/Kaine supporters, I overheard many talking about how important this election is, and why they're voting for Hillary. The most interesting comments came from an older man who was sitting near me, who said "I was a lifelong Republican. Until the Republican Party left me." He went on to talk about how he was baffled at how some of his friends, who he always thought were intelligent, caring people, were voting for Donald Trump. He said "I just can't understand it."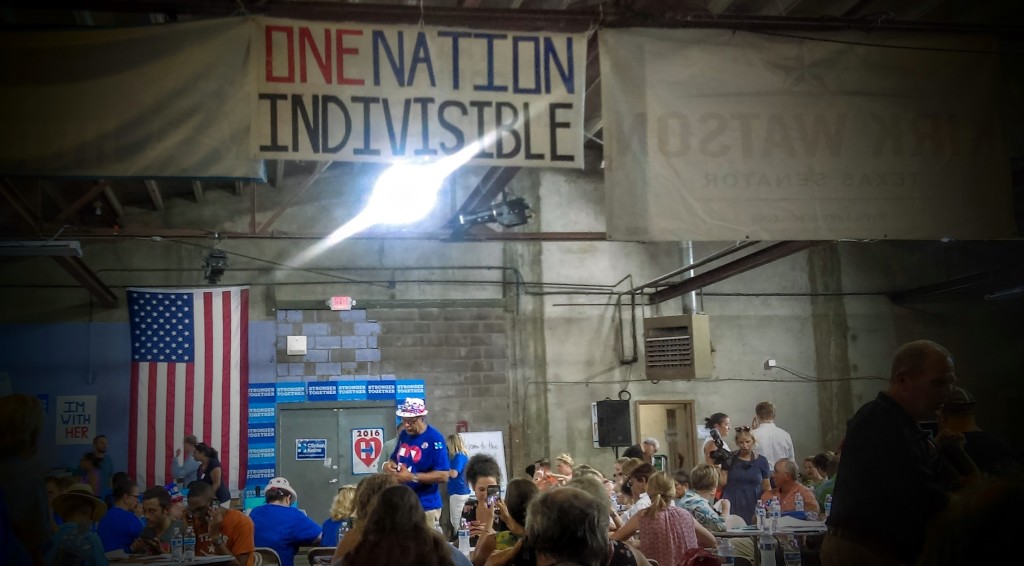 Senator Watson spoke for a few minutes, revving up the small crowd, taking a few jabs at the donald. My favorite being when Watson mentioned that Trump only has supporters in Austin because our favorite color is burnt orange. Most of Watson's speech was very positive. He focused on how we can turn Texas blue by continuing to elect local and state Democratic candidates to office, and how it is the strength of the grassroots movements across the state that have brought us so far in this fight. Senator Watson is always such a joy to hear. He's truly a hero for his constituents.
The crowd began cheering and clapping as Senator Tim Kaine entered the room and began addressing the very sweaty, very excited attendees. He mentioned how much he loves Austin, and thanked all of the campaign staff in Texas, as well as the volunteers. Kaine spoke about why he is honored to be running alongside Hillary Clinton, and how together, we can all change this country for the better. He spoke about the need to get tough in order to beat the opponent. But his speech was not filled with criticism of the donald or his rhetoric. Rather, it was filled with hope for the future, and the strength of the Democratic Party.
Much of his speech centered around the women in his life, and how they have made him better. He spoke of his mother, his wife, and the women on his campaign staff, and how because of their strength and support, he is where he is today. He urged the men of the Democratic Party to now be the ones to support these strong women in return, in particular, our first ever female Presidential Candidate…Hillary Clinton. Cheers abounded as Kaine exclaimed "The next president will be the president that will celebrate the centennial of women having the right to vote… rather than somebody that offends women every time he opens his mouth!"
But the bulk of Kaine's message was full of praise for the volunteers who comprised most of his audience. And that audience was on its feet as Kaine proclaimed, "This team, we're serious about Texas, because we know the kind of work you can do. We're going to go after Texas. The way we will win is because of what you're doing right now."